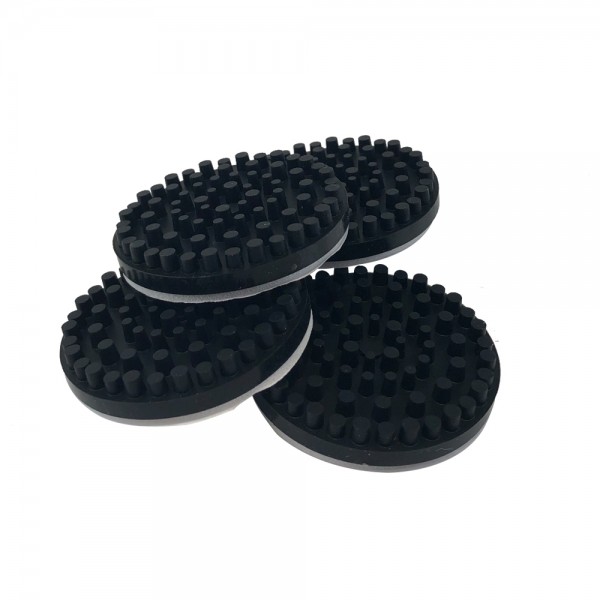 Record player anti-vibration feet (4pcs) ,elastic black

Prices incl. VAT plus shipping costs
Ready to ship today,
Delivery time appr. 1-3 workdays
Product advantages:
Anti vibration feet
For decoupling the turntable
4 Stück
Order number:

7710956

Vorteile

Kostenloser Versand ab € 39,- Bestellwert
Versand innerhalb von 24h*
Effektive Lösung zur Entkopplung des Plattenspielers Schallschwingungen werden über den...
more
Effektive Lösung zur Entkopplung des Plattenspielers
Schallschwingungen werden über den Boden oder die Luft auf andere Räume und Geräte - wie Plattenspieler oder Turntables - übertragen und können so zu Rückkopplungen oder Störgeräuschen führen. Unsere elastischen Absorber dämpfen Vibrationen und Schallschwingungen deutlich. Das Klangbild ist fokussierter, heller und geräuschärmer. Lästige Stör- und Lärmgeräusche werden verhindert. So klappt es auch sicherlich mit den Nachbarn!

VORTEILE
● sofortige Geräuschreduzierung
● keine Rückkopplung
● universell einsetzbar
● Schutzfunktion
● garantiert sicheren Halt
● hohe Tragkraft
● hochwertiges, elastisches Material

HOCHWERTIGE GERÄUSCHREDUZIERUNG
Unsere elastischen Vibrationsdämpfer dienen zur akustischen Entkopplung und absorbieren Vibrationen und Störgeräusche sofort. Die Fußpolster verhindern die Aufnahme unerwünschter Resonanzfrequenzen vom jeweiligen Gerät zur Standfläche hin. Dadurch entsteht eine bessere Raumbildung und eine Rückkopplung wird verhindert. Dies ist eine effektive Lösung, um das echte Klangbild von Musikanlagen zu optimieren.

QUALITÄT MIT SCHUTZFUNKTION
Die Antivibrationsfüße sind sowohl stabil als auch elastisch und verhindern, dass sich die Gehäuse der Musikanlagen selbstständig machen oder verrutschen. Durch das hochwertige Material der Absorber werden auch besonders empfindliche Oberflächen wie zum Beispiel Plattenspieler, die sich auf harten Möbeln und Bodenbelägen wie Holzböden, Fliesen oder Laminat befinden, vor Schäden, die durch die Störschwingungen verursacht werden können, geschont. Zudem sind die qualitativen Schwingungsdämpfer extrem strapazierfähig und leicht.

UNIVERSELL & SIMPEL
Unsere Gummifüße können universell eingesetzt werden. Sie sind nicht nur für Plattenspieler besonders geeignet, sondern auch nahezu für alle anderen Audioanlagen wie Lautsprecher Boxen, DVD-Player, Recorder, Verstärker oder HiFi-Komponenten sowie DJ-Turntables. Zusätzlich ist die Montage äußerst simpel. Die Vibrationsdämpfer müssen lediglich unter die Füße des Plattenspielers beispielsweise gelegt werden und fertig. Dazu muss kein unnötiger und kostspieliger Montageaufwand betrieben werden. Unsere Devise lautet: Kleine Polster mit großer Wirkung!

TECHNISCHE DATEN

Stückzahl: 4, Selbstklebend
Farbe: schwarz


Related links to "Record player anti-vibration feet (4pcs) ,elastic black"
Read, write and discuss reviews...
more
Customer evaluation for "Record player anti-vibration feet (4pcs) ,elastic black"